Autism Counseling Techniques
Equinox Counseling provides therapy for children and adolescents with high functioning autism experiencing anxiety, stress, depression, or related mental health challenges. We use cognitive behavior therapy (CBT), which is shown to provide results for kids, teens, and adults with anxiety and autism. Research has supported the effectiveness of cognitive behavior therapy to identify and reduce anxiety in children with autism.
Cognitive behavior therapy for kids and adults will help to:
Recognizing and understanding emotional and physical reactions to anxiety. For example, tightening of muscles, stomach ache, etc.
Clarifying thoughts and feelings in anxious situations
Developing plans and practicing effective socially acceptable coping
We tailor programs to each child's needs. We use accommodations and additional instruction methods recommended by researchers studying the use of cognitive behavior therapy to treat children with autism.
Austim Therapy Accommodations
We use pictures to reinforce understanding and support visual learning styles. We use the unique interest of the child during autism therapy. For example, dinosaurs or trains could appeal to a child with autism. While teens with autism may be interested in role-playing video games (RPG) or Anime art. These specific interests are used throughout autism therapy as they are highly motivating for a child with an autism spectrum disorder.
The therapy for autism that we use incorporates objects that provide sensory stimulation such as therapy putty, light spinners, weighted blankets, and fidget toys. Our autism counseling may include activities for body movement such as jumping, stretching, and throwing a ball that will help with concentration. We offer writing accommodations as needed for autistic children with fine motor challenges.
Through our autism therapy, we devote time to:
understanding feelings
identify the body's clues to stress and anxiety
role-playing exposure to feared or stressful situations
learning and practicing socially acceptable coping skills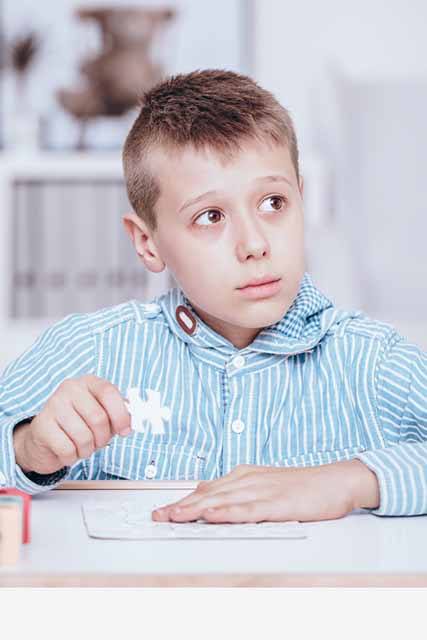 Today's Reality for Kids with Autism
As the numbers of children with autism continue to grow, co-occurring anxiety in children is being recognized in large numbers
Additional attention and money is being put into research for children and teens with autism and anxiety as a concerning mental health issue
Sensory stresses often bombard the bodies and minds of children with autism making it harder to handle any amount of additional stress
Awkward interactions with peers can potentially promote isolation and increase anxiety and depression in children with autism spectrum disorders
Kids with autism often have fears not seen with neurotypical children. For example, they may have an intense fear of washing machines
Cognitive Behavior Therapy
Cognitive behavior therapy (CBT) used to reduce anxiety and stress in neurotypical children and adolescents is shown to work with children with autism. But when providing therapy for kids with autism, certain modifications need to be made. These modifications depend on the child or teen's skill level. Recommendations from research published in the American Academy of Pediatrics suggests that modified CBT is an effective treatment for children and teens with high functioning autism and anxiety disorders. Equinox Counseling utilizes modified cognitive behavior therapy in the treatment of children and teens with autism spectrum disorders.
Signs of Anxiety in Children with Autism
Even more sensitive to sensory stimuli 

Retreat and spend even more time on their special interests

Become even more controlling or oppositional 

Increase non-compliance or tantrums to avoid environments that increase their anxiety

Verbal kids may talk less fluently or not speak at all

Develop or increase obsessive thoughts or compulsions

Insist on routines even more than usual or become more rigid in their thought processes

Become angry or aggressive to themselves or others

Increase incidence of wandering or running away